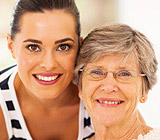 Americans today can expect to have a longer lifespan than ever before. And, as our population ages, our concern is no longer just longevity… it becomes, in addition, the quality of life. These days, the task of helping an older person — perhaps a parent, relative, or friend — to maintain a good quality of life often falls to adult children or others in the extended family. These caregivers have a crucial role in deciding how best to provide for an older person's care.
Eating a healthful diet, getting moderate exercise and having an invigorating social life are factors that can improve quality of life for a person of any age. But we would propose adding one more item: keeping a healthy smile. By age 74, about one in four people have lost all of their permanent teeth. Many more have failing teeth, or only a few teeth remaining. According to actuarial tables, these folks can expect to live, on average, to age 86 — and some will live much longer. That's a long time to go without good replacement teeth.
The Old School: Bridges and Dentures
What's the best method of tooth replacement? The answer depends on several factors. If just a small number of teeth are missing, the best options available are a fixed bridge (also called a fixed partial denture) or a dental implant. If most or all teeth are failing or lost, either complete or partial removable dentures, or implants, may be considered. We'll come back to implants later, but let's look at other methods first.
The dental bridge is a traditional method of closing a gap in your smile — but it has some drawbacks. It requires crowning or "capping" healthy teeth on either side of the gap, so they can be used to anchor a series of prosthetic teeth. This means a significant amount of tooth material must be removed from "good" teeth, which may leave them more susceptible to decay. Root canal treatment may also be required. A bridge can make gum disease more likely, and it is generally expected to need replacement in about ten years.
Removable dentures, both complete and partial, have been around even longer than bridges — in fact, they go back centuries. Denture problems, too, are legendary: They include problems with chewing and speaking, unpleasant smells and tastes, the inability to eat many favorite foods, and the tendency of dentures to become loose and ill-fitting over time. Many of these problems force a person to make compromises in their lifestyle; the last one, however, points to a serious flaw with dentures.
When teeth are lost, the underlying bone in the jaw begins to be resorbed (melted away) by the body's natural processes. This causes the jawbone to become weaker — and, as support for the facial features is lost, it can result in the appearance of premature aging. Dentures don't stop bone loss, in fact, they accelerate it. When dentures stop fitting properly, it's evidence of the process of bone loss at work.
A Modern Solution: Dental Implants
There's a great way to stop bone loss and restore teeth to full function: the dental implant. Whether it's a single tooth or an entire set of teeth that are missing, dental implants are the new gold standard for tooth replacement. Because of the way they become fused with the living bone tissue of the jaw, implants stop bone loss form occurring. They "feel" and function like natural teeth — and they can be almost impossible to tell from the real thing.
A single missing tooth can be replaced by one dental implant, where a bridge would require a minimum of three prosthetic teeth (one for the missing tooth, and two for the supports). On the other hand, an entire arch (top or bottom row) of replacement teeth can be anchored by just four to six implants. And, with regular care, implants can last a lifetime.
So if you're helping someone choose between different methods of tooth replacement, be sure to consider the advantages of dental implants. It's an investment in quality — both the quality of the implant itself, and the enhanced quality of life it provides. If you would like more information, or wish to schedule a consultation, please call our office. You can learn more in the Dear Doctor magazine articles "Dental Implants" and "Removable Full Dentures."