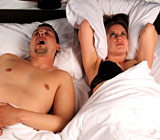 Nearly everyone is familiar with snoring, having either been awakened by a snoring, sleeping partner or by snoring so loudly that you wake yourself up. As if the sounds emanating from snoring weren't bad enough, snoring is no laughing matter and should never be ignored. And why? It can be a sign of other health issues.
Snoring occurs when the soft tissue structures of the upper airway (the back of your throat) collapse onto themselves, the tongue drops back and air is blocked in its movement through the mouth and nose into the lungs. These obstacles cause a vibration that produces the snoring sound. Snoring can also be caused by large tonsils, a long soft palate, a large tongue, the uvula (the tissue in the back of the throat that dangles like a punching bag), and/or fat deposits.
If snoring is more severe, it may denote a medical condition called Obstructive Sleep Apnea (OSA; or just "sleep apnea"). It occurs when the upper airway collapses causing significant airflow disruption or even no airflow whatsoever for 10 seconds or more and can leave you feeling tired, depressed, irritable, as well as cause memory loss and poor concentration. But have no fear; you are not alone, as millions of people worldwide have been diagnosed with this condition. There are also numerous treatment options that we can discuss with you — should you be diagnosed with this problem.
You can learn more about sleep apnea by reading the Dear Doctor article, "Snoring & Sleep Apnea." Or if you are ready for a thorough examination and to discuss your snoring, contact us today to schedule a consultation.