Posts for tag: periodontal (gum) disease
By Dr. Manson
January 15, 2013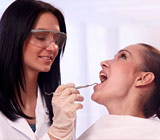 Gum or periodontal disease is a condition in which "biofilms" or dental bacterial plaque sticks to teeth around the gum line in the absence of good oral hygiene. If left untreated, it causes inflammation of the gums and surrounding tissues of the teeth that can result in "pocketing," gum recession and bone loss that eventually leads to loose teeth, followed by no teeth! And for about 10 to 15% of those having gingivitis or stage 1 periodontal disease, it can get worse by progressing into chronic periodontal disease. However, the good news is that a conservative and simple treatment called root planing combined with good daily oral hygiene may return your gum tissues to health, and even eliminate the need for gum surgery.
Most of the time, root planing is performed with local anesthesia (numbing shots) in the areas requiring treatment. Anesthesia is an important part because you should always feel relaxed and comfortable during treatment. Because inflamed gum tissues may be quite sensitive, these numbing shots enable us to accomplish our goals and thoroughly remove the problematic material from your teeth's roots.
Root planing or deep cleaning is a routine dental procedure usually done in conjunction with scaling, the removal of the more superficial deposits on the tooth surfaces. Root planing involves physically planing (scraping) the root surfaces of the teeth to remove calculus, bacteria and toxins that are ingrained into their surfaces so that the attached gum tissues can heal. It is carried out with manual hand instruments, ultrasonic electronic instruments or a combination of both for your comfort and best results.
You can learn more about this procedure by reading, "Root Planing." Or if you want to schedule an appointment to discuss your questions, contact us today.
By Dr. Manson
March 01, 2012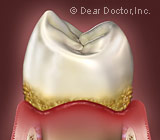 Since the dawn of man, periodontal (gum) disease has impacted humans. And while dental health has dramatically improved over the generations, the facts are still clear — millions of Americans are suffering from gum disease and probably do not even know that they have a problem. This is because periodontal disease most often starts without any symptoms or ones that most people tend to discount or ignore.
Stage 1: Gingivitis. The first stage of gum disease is inflammation of the gingiva (gums) without bone loss. While nearly all people will develop gingivitis in the absence of good oral hygiene, only 10 to 15% of them will go on to develop more advanced stages of the disease.
Stage 2: Early periodontitis. With this stage, gingivitis progresses into the deeper periodontal structures — the tissues that attach the teeth to the bone resulting in early or beginning bone loss. About 10% of the population develops full-blown periodontitis with progressive bone loss.
Stage 3: Moderate periodontitis. The third stage of gum disease results in moderate bone loss (20 to 50%) of root surfaces of the teeth due to continued destruction of the surrounding tissues and bone. Periodontal disease is "cyclical" — it goes in cycles with bursts of activity, followed by a period in which the body tries to recover. This is called chronic inflammation, or frustrated healing.
Stage 4: Advanced periodontitis. With the final stage of gum disease, there is severe bone loss (50 to 85%) from the tooth's root. This stage includes looseness of teeth, moving teeth, abscess formation with red, swollen and painful gums. The end results — eating and even smiling is difficult and uncomfortable, and you could lose all your teeth.
You can learn more about gum disease in the Dear Doctor article, "Understanding Gum Disease."
Have We Described Your Mouth?
If any of the above stages sounds like we are talking about your mouth, contact us today to schedule a consultation, discuss your questions and receive a thorough exam. If addressed promptly and with commitment to following your treatment plan, your mouth can return to good oral health.