Posts for tag: nutrition
By Dr. Manson
March 21, 2014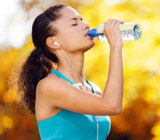 If you or your family has an active sports lifestyle, you probably already know the importance of food and liquids for energy and hydration. But what you eat and drink (and how often) could unintentionally increase your teeth's susceptibility to tooth decay. With that in mind, you should plan your nutrition and hydration intake for strenuous exercise to maximize energy and reduce the risk of tooth decay.
On the general health side, carbohydrates are your main source of energy for sports or exercise activity. You should eat a substantial carbohydrate-based meal (such as pasta, cereal or sandwiches) a few hours before a planned event. An hour before, you can snack on something easily digestible (avoiding anything fatty) to prevent hunger and as additional energy fuel.
It's also important to increase your liquid intake before strenuous activity to avoid dehydration, usually a couple of hours before so that your body has time to eliminate excess fluid. During the activity, you should drink three to six ounces of water or sports drink every ten to twenty minutes to replace fluid lost from perspiration.
While water is your best hydration source, sports drinks can be helpful — they're designed to replace electrolytes (sodium) lost during strenuous, non-stop activity lasting more than 60 to 90 minutes. They should only be consumed in those situations; your body gains enough from a regular nutritional diet to replace lost nutrients during normal activity.
In relation to your oral health, over-consumption of carbohydrates (like sugar) can increase your risk of tooth decay. The acid in most sports drinks also poses a danger: your teeth's enamel dissolves (de-mineralizes) in too acidic an environment. For these reasons, you should restrict your intake of these substances — both what you eat and drink and how often you consume them. You should also practice regular oral hygiene by brushing and flossing daily, waiting an hour after eating or drinking to brush giving your saliva time to wash away food particles and neutralize the acid level in your mouth.
Knowing what and when to eat or drink is essential to optimum performance and gain in your physical activities. Along with good oral hygiene, it can also protect your oral health.
If you would like more information on the best sports-related diet for both general and oral health, please contact us or schedule an appointment for a consultation. You can also learn more about this topic by reading the Dear Doctor magazine article "Nutrition for Sports."
By Dr. Manson
December 23, 2013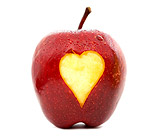 Your general and oral health go hand in hand — whatever is going on with the rest of your body can also affect your teeth, gums and other mouth tissues. That's why it's essential that you eat a diet with the right balance of healthy foods, while cutting back on unhealthy ones that contribute to tooth decay and other health issues.
When we refer to healthy foods, we mean foods with high nutritional value. These kinds of foods provide nutrients (carbohydrates, proteins, fats, vitamins, minerals and water) that build strong bodies (including teeth and gums), fight disease and help our bodies maintain good function on the cellular level.
A healthy diet has three components: variety, eating several different kinds of foods with a wide range of nutrients; balance, eating a proper portion from different food groups; and moderation, eating portions that are enough to meet energy needs and cellular health while not overindulging. It's important to remember that excess carbohydrates, proteins and fats are stored as body fat, which has an impact on a healthy weight.
In addition, you should also bear in mind how certain foods can have a direct effect on your teeth and gums. Foods with added sugars (such as refined sugar or corn syrup) and starches are a rich food source for decay-causing bacteria; naturally occurring sugars found in fresh fruits, vegetables and dairy products are not as great a threat. In this regard, the best approach is to decrease the amount of processed foods in your diet, while increasing your intake of whole foods.
You can also help deter tooth decay with certain foods. Eating cheese after a sweet snack helps prevent an increase in the mouth's acidic level, a contributing factor in tooth decay. Eating plant foods that require chewing stimulates saliva, which also helps prevent a rise in the acidic level.
Proper nutrition is a key component in maintaining overall good health. It's just as important for keeping your teeth and gums healthy and functioning.
If you would like more information on nutrition and the part it plays with your oral health, please contact us or schedule an appointment for a consultation. You can also learn more about this topic by reading the Dear Doctor magazine article "Nutrition: Its Role in General and Oral Health."