Posts for tag: gum recession
By Dr. Manson
January 08, 2014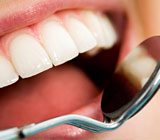 While hygiene and regular dental care go a long way to reduce your risk of oral disease and disorders, you're still subject to your heredity. Everything from tooth alignment to the shape of your jaws is determined by your genes.
So is the biological structure of your gum tissue. Aside from minute variations, gum tissue structure falls into two broad categories — "thin" or "thick," which refer to the actual thickness of the tissue and the underlying bone. The tooth's appearance is the best indicator of which type you may have: those with more triangular-shaped tooth (often called scalloped) have thin gum tissue; a person with a squarer appearance (flat) has thick gum tissue. People of Asian descent tend to have thin/scalloped tissue while those with European or African heritage tend to have thick/flat tissues.
Thick gum tissue isn't superior to thin, or vice-versa. In fact, each type is susceptible to certain types of diseases or adverse conditions.
Thin tissues are more susceptible to the occurrence of receding gums. Caused mainly by periodontal disease and toothbrush abrasion, the gum tissue recedes and exposes more of the unprotected tooth surface that should be below the gum line. This increases the risk of decay and tooth loss. Patients with thick tissue, on the other hand, have a higher risk of developing a condition known as "pocketing." As the thicker gum tissue becomes inflamed from dental plaque, it loses its attachment to the teeth and forms a small pocket. The end result is possible bone and tooth loss.
There's not much you can do about which type of gum tissue you have, for which you can thank (or blame!) your ancestors. But there's something you can do to reduce your risk of periodontal disease. First and foremost, you should practice good daily hygiene, brushing with a soft-bristled tooth brush and gentle flossing. It's also important to maintain regular cleanings and checkups in our office; not only will this ensure complete plaque and tartar removal, but gives us a better chance to detect either receding gums or pocketing early. Earlier detection can mean better treatment outcomes — and a saved smile.
If you would like more information on genetic types of periodontal tissues, please contact us or schedule an appointment for a consultation. You can also learn more about this topic by reading the Dear Doctor magazine article "Genetics & Gum Tissue Types."
By Dr. Manson
March 02, 2012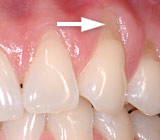 Gum recession is a common problem affecting millions of Americans to some degree. If you have it, you will notice that the pink gum tissue surrounding one or more of your teeth has shrunk or receded and left the tooth-root surfaces exposed. How does this happen? And does it require treatment? The answers to both of these questions will vary from person to person. The good news is that treatment is available for those who need it.
The way you care for your teeth can be a major factor in gum recession. If you do not effectively remove plaque (bacterial biofilm) from your teeth daily, you may develop gum inflammation, gum disease and/or recession. Conversely, if you brush or floss too hard or for too long, you can also damage your gums. Please remember that it doesn't take a lot of pressure to remove biofilm; you just need to make sure you get to each tooth, right down to the gum line.
Other causes of gum recession include: mal-positioned and/or prominent teeth that are not fully encased in supporting bone; muscle attachments (frenums) pulling at the gum line; habits such as holding foreign objects (nails, pins) between the teeth that press on the gum tissues; and badly fitting oral appliances such as dentures, braces – even tongue bolts and lip piercings.
Besides not looking too great, gum recession can lead to anything from minor tooth sensitivity to tooth loss in the most severe cases. If you are experiencing any discomfort from a loss of gum (also called "gingival") tissue, we'd certainly like to know about it. We would be happy to examine your condition and make recommendations.
There are surgical procedures that are very effective in treating these problems. Procedures such as gingival grafting or periodontal plastic surgery ("peri" – around; "odont" – tooth), often involve taking a small piece of healthy gingival tissue from the roof of your mouth and grafting it to the area where it is needed. Ultrafine sutures hold the graft in place until it "takes." Laboratory-processed donor tissue can also be used. In either case, the procedure has a terrific success rate.
If you have any questions about gum recession, please contact us or schedule an appointment for a consultation. To learn more about the topic of oral appliance therapy, please see the Dear Doctor magazine article "Periodontal Plastic Surgery."