Posts for: May, 2013
By Dr. Manson
May 30, 2013
There is nothing pleasant about having a loose tooth. It can be very unsettling to feel your tooth move around, and you may be worried about losing the tooth entirely. If you notice any looseness in your teeth, you should make an appointment with our office immediately, so that we can determine the underlying cause.
There are two reasons for loose teeth, and most often, this looseness is actually a late symptom of gum (periodontal) disease. If left untreated, this disease destroys the supporting structure of your teeth, including the bone. As bone loss progresses, teeth gradually become looser, and if you do not seek treatment, this can ultimately result in tooth loss.
Another less common reason for loose teeth is excessive biting forces, including clenching or grinding of the teeth. These biting forces are outside the normal range of functional pressures and can stretch the periodontal ligaments that join the teeth to the supporting bone, resulting in loose teeth.
In both cases, this condition can be classified as "occlusal (bite) trauma." When we examine you, we will determine the type of occlusal trauma that you have.
If the amount of bone supporting your teeth is normal and excessive force is causing your loose teeth, it then is referred to as primary occlusal trauma. Our treatment approach will focus on reducing the biting forces. We may recommend minor bite adjustments and/or custom mouthguards.
Secondary occlusal trauma occurs when gum disease has caused excessive bone loss. In this instance, even normal biting forces can be damaging. We will work with you to treat the gum disease and improve your oral hygiene efficiency to heal your gums. Once the gum tissue heals and the inflammation is reduced, it is likely that there will be some tightening of the teeth. We will then adjust the biting surfaces of your teeth. This is accomplished by carefully reshaping (by drilling) small amounts of your tooth's surface enamel to change the way upper and lower teeth contact each other, thus redirecting forces. Secondary occlusal trauma may also require splinting or joining teeth together, so that they can handle biting pressures. The need for this additional procedure will be determined by your response to treatment and how much mobility of the teeth remains after the inflammation is resolved.
If you would like more information about loose teeth, please contact us or schedule an appointment for a consultation. You can also learn more by reading the Dear Doctor magazine article "Loose Teeth: Biting Forces Can Loosen Teeth."
By Dr. Manson
May 15, 2013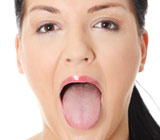 A consistently dry mouth is not only uncomfortable and unpleasant but also probably more serious than you think. Dry mouth, medically known as xerostomia ("xero" – dry; "stomia" – mouth) affects millions of people, but few understand why it happens or why it is important.
What Causes Dry Mouth?
It is normal to awaken with a dry mouth because saliva flow decreases at night. But if your mouth is persistently dry throughout the day, it may be a result of habits such as smoking, alcohol or too much coffee drinking or even dehydration. It is also a common side effect of some medications. Xerostomia is not a disease in itself, but it could be a symptom of salivary gland or other systemic (general body) disease.
Why is Saliva Important?
A persistently dry mouth can be a problem. Not only does it feel unpleasant and lead to bad breath, it can also significantly increase your risk for tooth decay. Saliva lubricates your mouth for chewing, eating, digestion and even speaking. Saliva also has important antibacterial activities. Most importantly normal healthy salivary flow neutralizes and buffers acids in the mouth to protect the teeth from the acids produced by bacteria on the teeth that cause decay, and by acids in sodas, sports drinks and juices that can erode tooth enamel.
Not only does saliva neutralize acids but with its high mineral content it can actually reverse de-mineralization — the process by which acids attack enamel and remove calcium from the enamel surface. Healthy saliva actually re-mineralizes the outer layers of tooth enamel, but the process can take 30-60 minutes. That's why it's important not to snack on sugars or drink sodas between meals — one an hour and your mouth is acidic all the time.
Individuals without enough saliva are especially at risk for root decay and fungal infections, and they are also more likely to lose tooth substance through abrasion and erosion.
What Can We Do for a Dry Mouth?
If your mouth is usually dry, make an appointment with us to assess the causes of the problem. However it may be more serious with medical implications. The solution may be as simple as drinking more water and using good daily oral hygiene, or it may necessitate prescription medication to promote more saliva flow.
Contact us today to schedule an appointment to discuss your dry mouth and what we can do to help. For more information read the article in Dear Doctor magazine "Tooth Decay – How To Assess Your Risk."